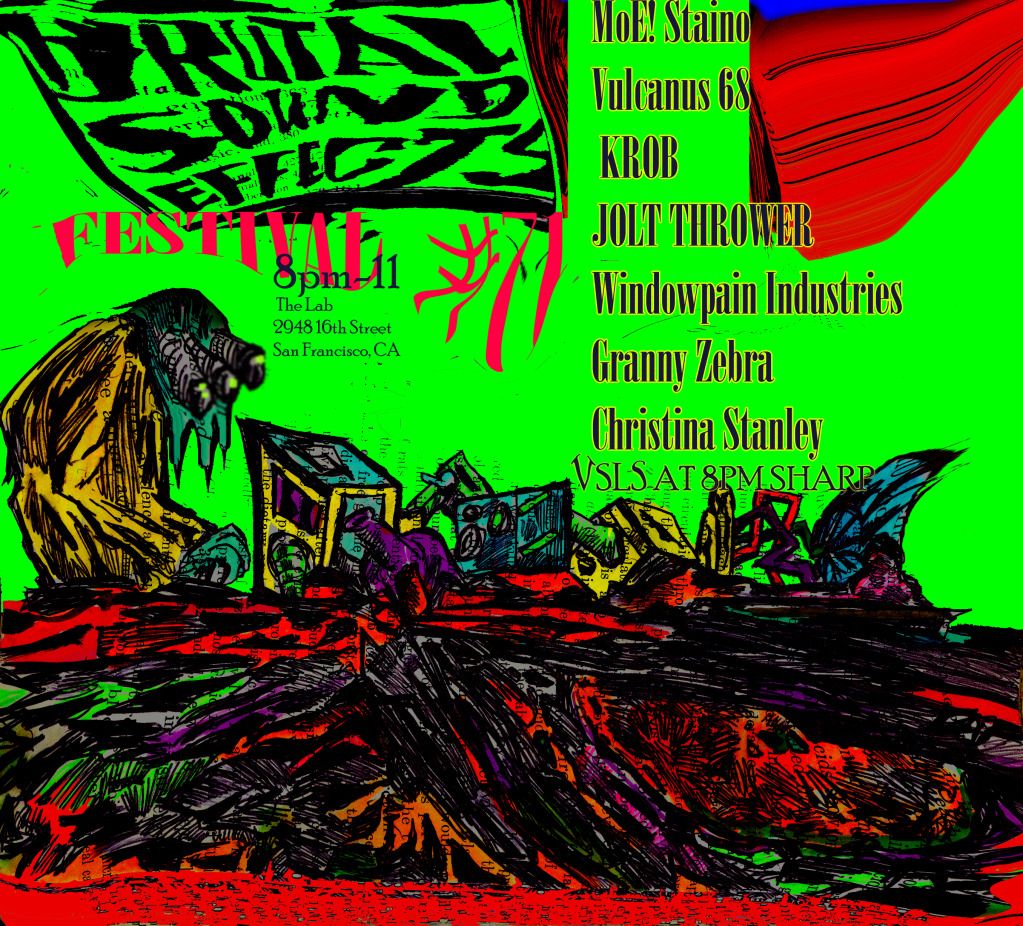 Wednesday, April 18, 2012
doors open 8pm
show at 8:30 sharp
show over by 10:30pm
$8 - $12 Sliding Scale
7 amazing acts:

ΞΞΞΞΞΞΞΞ   MoE! Staino   ΞΞΞΞΞΞΞ   Vulcanus 68   ΞΞΞΞΞΞΞ   KrOB   ΞΞΞΞΞΞΞΞ   Windowpain Industries   ΞΞΞΞΞΞΞΞ   Granny Zebra   ΞΞΞΞΞΞΞ   Christina Stanley   ΞΞΞΞΞΞΞΞ   VSLS   ΞΞΞΞΞΞΞ
Homemade treats by Delicatrocities, a nomadic offering of deliciously edible atrocities!
Moe! Staiano is an experimental composer, drummer, percussionist, songwriter and multi-instrumental performance artist who has been at the forefront of the Bay Area improvisation scene for over a decade.  
Moe! is conductor and composer for Moe!kestra!, a large-ensemble avant garde orchestra, which can feature over 30 musicians playing everything from violins, clarinets and cellos to drum kits, oscillators and electric guitars. Moe!kestra! performances are high-energy, electrifying experiences that create unique and memorable soundscapes that intrigue and beguile.
His innovative solo percussion shows feature prepared drum kit, inventive use of a "percussion guitar," found objects and audio looping often woven in with performance art, which always gets the audience involved and eagerly expectant of what might happen next.
He also fronts Surplus 1980, a post-punk band that continues the journey of no-wave musical exploration begun by Mute Socialite, one of Moe!'s previous projects, and you'll find him behind the drum kit for the energetic and quirky ReCardiacs Fly, a tribute to the cult UK punk/prog band, Cardiacs.
Vulcanus 68 is a return to the roots of outlaw electronic music. When there was dirt on the floor and grease on the tapes. When reverbs had springs and a filter took up half the room. Taking their cue from the 60s/70s renegades outside the academic limelight such as Tod Dockstader,Richard Maxfield, Kenneth Gaburo and Basil Kirchin, Vulcanus 68 bring their own dark 21st century vision to the outskirts of electronic composition.

Based in the San Francisco Bay Area, Vulcanus 68 is at its core, a duo of Jared Blum (Blanketship, Beaks Plinth) and Dominic Cramp (Evangelista, Borful Tang, Qulfus, Modular Set) Aside from their studio work, they play out regularly around the Bay Area and beyond.
http://www.gigantesound.com/artist_vulcanus.html

KrOB (known on biscuit street as "gravy on gravy") has been delighting neighbors with his "no music after 10pm" policy for years. when asked about his plans for the future, he responded, "um, excuse me? isn't that the kind of question you ask at the end of the interview?", and stormed off like a dick. i guess it was the end of the interview... and now you know as much as we do.
https://vimeo.com/KrOB
http://www.mixcloud.com/KrOB
http://www.youtube.com/DALIandGLEASON
Christina Stanley is a bay area violinist, vocalist and composer who is an active performer of new music. She is currently focused on the creation of painted graphic scores and electronic music.